There is just something so sexy about a hot woman dressed for battle. It seems that no matter the era depicted if you dress someone stunning in just the right amount of slightly tattered clothing, and then perhaps throw them a sword, a staff, or even a tommy gun, then it hits multiple sensory levels all at once. One may occasionally question the survival ability of a gorgeous blond in nothing more than a corset, a mini skirt, and killer boots, but then you take another look and just nod and smile.
Here are ten such women who you would be perfectly happy meeting on the battlefield, hopefully on your own side.
Lagertha – Katheryn Winnick – Vikings
When you think battles and warlike cultures one of the first that comes to mind is always the Vikings (these damned vikings!) These Vikings are well known throughout history for having their women fight alongside them and in the History Channel show Vikings the ex-wife of the main character is the female star of the show. Now, with the show being set in Norway, England, and (spoilers) now France, there is very little ability to get Katheryn Winnick to reveal much of what is under Lagertha's robes. While this is obviously a shame, Winnick plays the role of the hot, yet totally badass Lagertha perfectly enough that you just don't care. Any woman who can pull of being that hot while bleeding under her eye 100% needs to have a place on this list.
Daenerys Targaryen – Emilia Clarke – Game of Thrones
If you were to point out that Daenerys Targaryen doesn't actually do a whole lot of fighting I would listen. If you were to go on with the fact she spends large amounts of time each season just wandering around the semi wilderness instead of actively getting involved in the battle for Westeros, well I would listen some more. I would then, and only then, point out the fact that Targaryen has for herself three FREAKING DRAGONS, making all earlier points completely void. Throw in the fact that GoT liberally takes advantage of the slacker censorship rules on HBO and you have a winning combination.
Oh, and did I mention she undergoes several undressed states…
Elektra – Jennifer Garner – Elektra
This may have been a terrible spinoff movie from a terrible superhero movie (Daredevil) but Elektra does have two things going for it. Firstly it is a wonderful reminder as to just how much better the big studios have got at making superhero movies over the past ten years. Secondly it has Jennifer Garner, at her absolute peak, wearing little more than lingerie for the entirety of the move. Sure, it has a 10% rating on Rotten Tomatoes and is universally panned as one of the worst movies of all time, but Garner still looks hot as hell and that is probably the only reason the 10% approval rating exists.
Lara Croft – Angelina Jolie – Tomb Raider
Recreating the look of the iconic Lara Croft character should have proven to be much more difficult than it actually was. With the perfect hour glass figure, huge assets, and kick as demeanor, casting should have taken months. Instead I assume Angelina Jolie just rocked up to the casting director in some cosplay Lara outfit she had at home (probably used for bedroom activities) and was cast on the spot as she is Lara's double. The result was a Heckler & Koch toting badass who gave fan boys an outlet and created a whole legion of new followers in her own right.
What's even hotter is she's such an angel in real life. Doubling up as the UN Goodwill Ambassador fighting for refugee rights.
Xena – Lucy Lawless – Xena: Warrior Princess
For those of a certain age Xena is where it is at when it comes to sexy as hell women looking for a fight. Lucy Lawless was the perfect woman to play the warrior princess as she looked like she was born to wear the tiny leather thing they put Xena in each and every week. She also totally looked like she knew how to use the sword and chakram AND managed to give off the lesbian vibe which undoubtedly kept half the viewing audience tuning in each and every week. This was especially true because….
Gabrielle – Renee O'Connor – Xena: Warrior Princess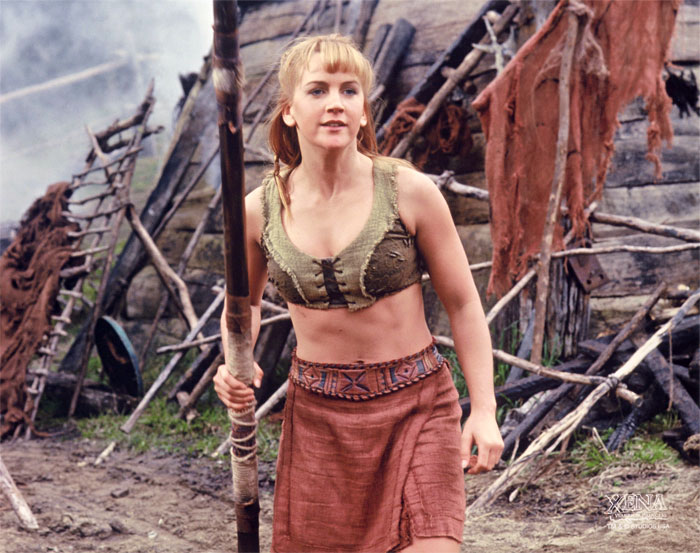 Gabrielle was the innocent staff wielder to Xena's straight up badass. We watcher her grow and develop, both as a character and into her hotness, as the seasons went on. By the end of the show she was just as capable in a fight as her leather wearing partner, but the show really picked up as the two developed an interesting bond and chemistry. This was cemented as the show's legacy in a season six episode where the two, along with the showrunners, decided to make the very most of a scene where they had to clean off sand. From somewhere a hot tub was found and this quickly became the best scene in the history of the show.